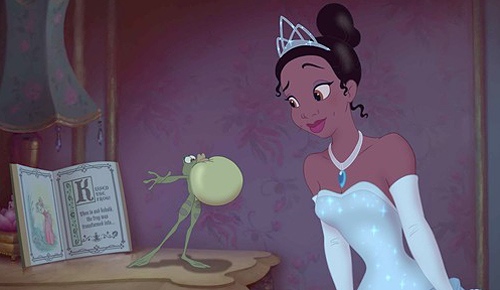 For all who are completely out of the loop, Disney is FINALLY getting around to making a black princess movie. Now we are blessed with the first of many trailers for the their return to hand drawn animation.
Set in Nola aka La Nouvelle-Orléans or New Orleans for you crazy peeps that didn't get it from the trailer this new press release gives a little more insight into the story:
"When the free-spirited, jazz-loving Prince Naveen of Maldonia comes to town a deal with a shady voodoo doctor goes bad and the once suave royal is turned into a frog. In a desperate attempt to be human again, a favor in exchange for a fateful kiss on the lips from the beautiful girl, Tiana, takes an unexpected turn and leads them both on a hilarious adventure through the mystical bayous of Louisiana to the banks of the almighty Mississippi and back in time for Mardi Gras in New Orleans. An unforgettable tale filled with music, humor and heart where two frogs—along with the help of a 200-year-old voodoo priestess, a love-sick Cajun firefly, and a trumpetplaying alligator—discover that what they want isn't as important as what they need."
My only worry about this film..is that its all singing and dancing with happy smiley "shoe shine boy" black people. Considering the movie takes place in the 1920's, I certainly don't expect them to show lynchings in the background of scenes..but I hope that they don't perpetuate black southern stereotypes. This is the first time in 75 years that a black character is being portrayed in a disney animated film. As a disney fan who happens to be black and a girl....this is MAJOR to me. The closest I could ever pretend as a child was Princess Jasmine, who in all fairness should have been muuuuch darker than she was lol. I simply cannot believe that its taken this production company this long to have a black american themed film. The Lion King doesn't count btw because they were fucking lions....
-D